Toto Drake 2-Piece Review (Updated March '20)
If there are two areas where the Toto Drake 2-Piece most trumps that of other toilets, it's in its level of comfort and its effective flush. On the other hand, you'll find it sacrifices many other features often found in today's toilets. For example, you may have to spend a bit of time cleaning it, being that it is a two-piece toilet which does not incorporate any mess-free materials in its make. These are two characteristics which are the exact opposite of what you want to see in a toilet that's easy to clean.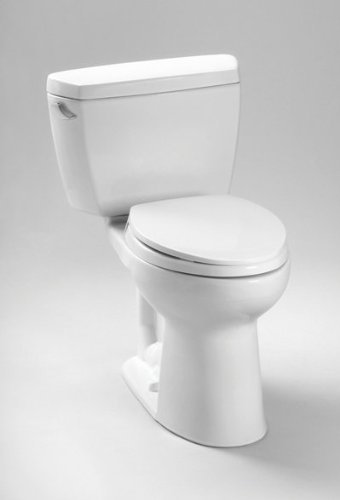 However, because it lacks many advanced features, you'll find that its great flush and high level of comfort is the best you'll ever see in toilets within the Toto Drake 2-Piece's price range. In fact, this particular unit is great even if you don't care a great deal about its flush or its comfort and simply want to save some money on your next purchase, being that it functions well while having a price which is well below average. Either way, this toilet certainly has its pros and cons. Whether one outweighs the other all depends on what you're looking for in your next unit.
FLUSHING EFFECTIVENESS
If I could give the Toto Drake 2-Piece a six in this regard, I would. Not only does it have a very efficient and effective flush compared to other budget toilets, it has one of the best flushes on the market. As such, you can be sure that nearly every dollar you put into this toilet is going toward a feature which we can all appreciate, no matter our toilet needs. Everybody wants a toilet that rarely clogs.
DURABILITY
You'll definitely be able to appreciate the Toto Drake 2-Piece's level of durability if you're buying it on the grounds of its low price. Not only will you save one hundred dollars or more initially, you can be sure those savings will last for quite some time, being that you can expect this toilet to stick around for years. This goes in contrast with some cheap products, which might not stick around for a great deal of time, thus merely offsetting the initial expense as opposed to eliminating it completely. If it's a touch of frugality you're after in your next toilet, this unit is sure to get the job done.
QUALITY
You'll noticed I docked the Toto Drake 2-Piece a point on its quality rating. This is due to the fact that, while it certainly functions the way any basic toilet should, it's just that – basic. It comes with no advanced features, nor will it prove to impress. At the end of the day, this is a basic toilet at a low price. It does; however, stack up quite well to the quality of other toilets within its price range, which is always a nice thing to see. It is also quite comfortable due to its elongated seat, which serves to ramp up its level of quality a bit further.
DESIGN AND FINISH
While the Toto Drake 2-Piece certainly excels in a few factors, this is not the case here. It doesn't look bad, though it doesn't look good either. You'll notice right from the start that this particular unit looks like any old toilet on the market. While this shouldn't be a deal breaker, don't expect to impress with this model.
WARRANTY
If there's one area where Toto toilets lack across the board, it's in their warranties. This unit is no exception. Being that its warranty lasts a single year, you're just not getting a whole lot of assurance in terms of the longevity of your toilet. It would be nice to see some more protection against manufacturing defects, even if said defects are nearly unheard of. You never know when you'll be the unlucky customer whose toilet breaks down right after its one-year warranty expires.
OVERALL SUMMARY
At the end of the day, the Toto Drake 2-Piece proves to be one of the most frugal toilet purchases you can possibly make, assuming you're willing to take a chance on its below-average warranty. Despite coming at such a low price, it has a great flush and carries a large degree of comfort which most toilets simply do not. For both present and future savings without a large sacrifice in overall quality, the Toto Drake 2-Piece proves to be an excellent choice.