Scrubbing Bubbles Toilet Cleaning Gel Review (Updated March '20)
I use Scrubbing Bubbles to clean my bathtub often. I find that it really works, especially on tough stains, and mold. I had a friend tell me about the toilet cleaning gel and I was a little leery at first. I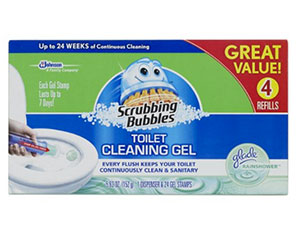 didn't think that a sticky gel puck in the side of my toilet would stay, and I was worried if it would really work at all. I was completely off base. This little gel 'puck' is the easiest thing to place in your bowl, and it has a pretty long flush life. Plus, your bathroom smells like the 'I just got cleaned' scent- which is important to me as a mom of two boys, a husband and a dog.
HOW IT WORKS
Scrubbing Bubbles Toilet Cleaning Gel comes with a dispenser you can use to stamp the little puck onto the side of the bowl- so you don't ever have to worry about touching it with your hand and sticking it on. It simply sticks there, and as you flush your bowl, the water runs over it, filters it, and cleans your bowl with the Scrubbing Bubbles Formula.

THE PROS:
This stuff really keeps your toilet bowl clean with the scrubbing bubble action. It smells good and it helps resist lime build up, hard water stains, and stains in general. **The smell is extremely omnipotent and you may find that some people won't like the scent- it's very noticeable, however it doesn't smell like chemicals as much as it smells like a clean bathroom! It leaves absolutely no residue or 'gross stuff' behind at all, as eventually the gel spot will just disappear and flush. It's easy to put into your bowl and there is really no hassle at all. They are also very inexpensive.
THE CONS:
These little gel pucks only last for about a week. There are several other products on the market that will last a month or more when they are placed under your rim. You have to put a new little puck on your bowl at least once a week to keep up the full cleaning and the fresh scent. I wish there was a way to make these little pucks last a bit longer. Also- on a side note, some people have complained that the little gel puck doesn't stick to their toilets- they may not be as adhesive when using with some toilets over others for some odd reason.
BUYING IN BULK FROM AMAZON
I like the Scrubbing Bubbles Toilet Cleaning Gel so well that I decided to purchase them in bulk through Amazon's web site. It just works better for my family this way, and I always appreciate having some on hand. I also always appreciate the lower prices when thing are bought in higher quantities.
Here is a fair warning to anyone wanting to buy this product in bulk. The description is kind of confusing on the Amazon website. It says that there are only 4 refills, but this isn't the case. It took me awhile to figure this out too. Actually there are six of the gels in each of four tubes making a total of twenty-four gels. Remember not to throw out the applicator as there are only four of them. The advertisement on the box will say that this product will produce twenty-four weeks of clean and fresh smelling toilets, but that's because there are actually twenty four gels and each gel lasts for about a week. At any rate, this is the best route to go as the cost is so much less expensive. Also, this particular pack (see link below) has my very favorite scent- which is 'The Rainshower Scent.' It cleans and makes your bathrooms smell extremely clean and fresh. You can choose from other scents, however this one is absolutely wonderful!
THE BOTTOM LINE
Scrubbing Bubbles Toilet Cleaning Gels are a phenomenal product which keeps your toilets smelling clean and fresh, and they are easy to put on your bowl. Although one 'gel puck' only works for around a week, the product is very inexpensive and efficient, and they are are able to be purchased in bulk, like on the Amazon web site. There are several different choices when it comes to scents, but the 'Rainshower' scent is definitely my favorite! Good luck and keep fresh and clean!