Best Cushioned Toilet Seats (Updated March '20)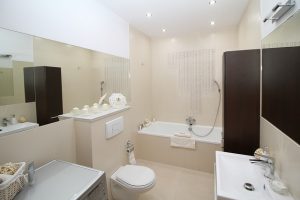 Your bathroom is one of the most used rooms in the house and you want it to be comfortable to be in, from the bathroom décor, to your shower, bathtub, even toilet. One facility that gets used multiple times a day and you want it to be a comfortable experience every time you go and not one you dread. Especially if you are one who tends to spend more time on the royal throne, then you want it as comfortable as possible. One way to increase the comfortability of your toilet is with the seat. Changing your seat from a cold, porcelain seat to a cushioned toilet seat can give you more comfort so that you don't mind spending time going to the bathroom.
BENEFITS OF PADDED TOILET SEATS
For those who find porcelain, wood or any other hard material toilet seats cold, hard, uninviting and extremely uncomfortable to sit on, think padded. Padded toilet seats offer many benefits. The most common reasons people end up switching from the traditional toilet seat to a cushioned seat include:
Comfort when using the bathroom, every time
Gives the toilet seat a little lift for those who prefer a little height
Won't crack or chip
Light weight and easy to lift
Antimicrobial which means it helps prevent germs and bacteria from growing
CHOOSING YOUR CUSHIONED TOILET SEAT
There are different types and brands of padded toilet seats to choose from. You want to make sure you get the right one for your toilet before you purchase one because typically, toilet seats are non-returnable to the store due to the nature of what they are. There are a few things you will want to consider before making your decision.
Shape – Like other types of toilet seats, padded toilet seats come in different shapes to fit the different shapes of toilets. You will need to make sure you order the correct shape, whether round or elongated or otherwise.
Measurements – Make sure the measurements match the seat you currently have on your toilet. Measure the seat you currently have and order the correct size for your new, padded seat.
Color – Choose the correct color for your toilet. Padded toilet seats come in an array of colors so you can match it to your bowl. If you have a white toilet, bone, black or other color, you can find the perfect color to go with your toilet.
BEMIS 13EC 047 – BLACK, LIFT-OFF SOFT ROUND CLOSED FRONT TOILET SEAT 
The Bemis 13EC 047 cushioned toilet seat comes in two shapes; round and elongated. This padded toilet seat is made of an antimicrobial vinyl to help prevent the growth of bacteria and germs and easy cleaning. The inner core is constructed of a durable molded wood for its base structure, and stability. The seat is easy to remove with its "easy-clean-and-change twist hinges." This means you can easily install or remove it for a thorough cleaning.
The Bemis fits all manufacturer brand round toilets. No matter what manufacturer brand you have, if your toilet is round or elongated round, the Bemis 13EC 047 will fit either style of round toilet. Like many other types of toilet seats, this toilet seat will not shift or move side-to-side. It stays in place so that you don't have to worry about it loosening or making the unexpected shift when you sit down.
No one likes to hear the loud bang of a toilet seat. With the Bemis padded toilet seat, whether you drop it intentionally or not, the seat is quiet when it hits. You don't have to worry about it cracking or startling you or your household in the middle of the night when you let the seat go.
Another nice feature of a padded toilet seat is that they are kid friendly and can help with potty training. Children don't always like having to deal with big, heavy toilet seats when they are young or learning how to properly lift and lower the toilet seat. The light weight Bemis will help train your boys to lift and lower the seat because it is not the typical heavy and cumbersome wood or porcelain. It is also soft and comfortable for little bottoms so that they will look forward to using the bathroom instead of dread.
Make your bathroom experience as comfortable as possible with a cushioned toilet seat and see the difference for yourself.